School's out for some and almost out for others! And we had a lot of books to talk about at this past meeting.
These books were given nominations:
Finding Orion by John David Anderson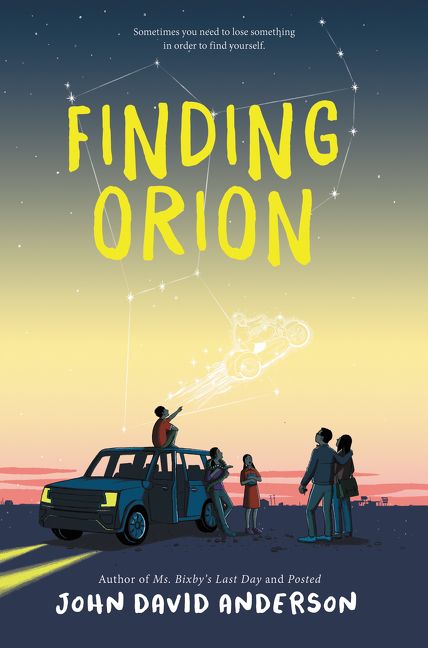 "When Orion Kwirk's grandfather dies, his family (and him) take a trip to his hometown of Greenburg, Illinois. They attend his "funeral" and are sent on a quest to recover his ashes. They learn a lot about him on this quest. This was an excellent book."
-Eleven
"Lucy Everheart is a pretty normal girl. Besides from her mother who swam with sharks and her father who is a rescue diver. Lucy's mom died when she was out on a boat with sharks. Just when Lucy thinks she's gotten over it, her best friend, Fred, drowns. Lucy then sets out to finish the field guide with pictures she illustrated and text by Fred, and tagging sharks which was her mother's dream before she died. With help for her father, Robin, a marine biologist, Mr. Patterson, a senior citizen that's Lucy's neighbor, and Sookie, a fisherman friend of her parents, can she set up to finish what her mom started and figure out the secret Fred was trying to tell her?"
-Emma
The Owls Have Come To Take Us Away by Ronald L Smith
"A strange and haunting story about a boy who strongly believes in the grays (aliens) even though his family is strongly against it. Simon goes up against all odds with one close friend and two unlikely allies."
-Keira
"One day, while Simon is camping with his family, he is abducted by aliens. No one believes him, however, and his parents send him to a psychiatrist. This novel is a great sci-fi story and I enjoyed it very much. It is Simon's journey to overcome his fear and learn more about these mysterious aliens."
-Eleven
The Simple Art of Flying by Cory Leonardo
"You're not a feather picker, are you? Alastair, the african grey parrot, doesn't think he is, until his sister Aggie is separated from him and he is shipped off to live with a crazy old lady. How much can parrots handle?"
-Keira
A Wolf Called Wander by Rosanne Parry
"One day, a wolf named Swift's pack is killed. He is alone now, and he must figure out how to be a lone wolf. He then begins his journey to find a new home, and he faces many challenges on the way. This was a great book."
-Eleven
The Wizenard Series: Training Camp by Kobe Bryant and Wesley King
"From five different perspectives, the story of a lower-class team's magical transformation through basketball training camp. A must-read!"
-Keira
And these are some of the books we really enjoyed and would recommend to fellow readers, but didn't think were quite up to Newbery-level of excellence.
Ben Braver and the Incredible Exploding Kid by Marcus Emerson
"A hilarious story about a kid struggling with his identity and fitting in, this book is a good read no matter what genre you like!"
-Keira
Bernice Buttman, Model Citizen by Niki Lenz
"A story about an antagonist-gone-protagonist, falling in love with Bernice, the fat bully with a bad record, is inevitable. As Bernice struggles with morality and family, she uncovers many allies who are by her side through thick and thin."
-Keira
"A sweet, heartfelt book written in flowing verse about a girl who wants to fly away with the birds but struggles to let go."
-Keira
Camp by Kayla Miller
"An amazing follow up graphic novel to Click and Camped Out. I am amazed at the speed Kayla Miller published these because the plot is amazing and the drawings are beautiful. Hope to see more soon!"
-Keira
"If everything is the same, everyone is happy, right? Elodee thinks so until she discovers the truth about their eerie new town and how change can sometimes be good."
-Keira
"Izzy lives on video games and pizza, so when she gets sucked into her newest video game, she is thrilled. But she gets so caught up in it that she loses track of her real life…and her best friend, Eric. A beautiful graphic novel about a gamer girl and her friendship struggles, even in the virtual world."
-Keira
"The blurred line between right and wrong is stepped across many times in this revenge driven novel about five friends with one (slightly illegal) goal."
-Keira
Just Jaime by Terri Libenson
"A beautifully written book with hilarious illustrations about two best friends in middle school, facing puberty, cliques, popularity, gossip, love and most of all, friendship."
-Keira
Just South of Home by Karen Strong
"Cousin Janie is good at getting people into trouble, so when she steals something from a haunted church, it's no surprise to Sarah. But are the ghost tales really true? An amazing novel about friendship, family and history."
-Keira
Mike by Andrew Norriss
"Floyd loves tennis. He's played it all his life and is amazing at it. But then Mike comes to visit him and won't leave him alone. The problem…tennis. An amazing tale of self-discovery, chasing your dreams and being your own best friend."
-Keira
Pay Attention, Carter Jones by Gary D. Schmidt
"When a butler is sent to you by your grandfather, of course things are going to change. But Carter doesn't realize it will force him to face the truth about his father and his brother."
-Keira
Ruby In The Sky by Jeanne Zulick Ferrulo
"Ruby feels like she is drowning when her mother gets arrested. She hates her new town, and she hates that her dad is gone. But can she find her wings with the help of the "crazy" bird lady next door?"
-Keira
Samantha Spinner and the Spectacular Specs by Russell Ginns
"They aren't your average purple sunglasses! (Although since when are they average). Coming to you from yours truly, Samantha Spinner, another book about secret gifts, brothers and disappearing uncles."
-Keira
Secrets of a Fangirl by Erin Dionne
"Sarah-Anne's secret geek always stays hidden. She has a list of rules to keep her inner geek and her outer sporty and popular girl separate. But when she enters a very geeky fandom contest, she realizes she is going to have to part with half of herself. The question is, what will she choose?"
-Keira
Stu Truly: First Kiss by Dan Richards
"A hilarious novel about a boy who falls in love, gets a job, saves a fashion show and kisses a girl for the first time in one novel. Sweet and funny."
-Keira
As you can see, we had a busy few weeks between meetings! Our next meeting is Friday June 7 at 4pm. If you are interested in joining us, send an email to elizabeth.ayscue@wakegov.com for information. We'll see you there and happy reading!